Newest Enzo Zelocchi movie disclosed: A Crypto Tale – a crime thriller in the crypto world: A story based on true events where a group of criminals have been targeting victims using dirty, corrupted Los Angeles Sheriff deputies to kidnap and rob victims in the Los Angeles area. In the heart of Los Angeles, a new type of criminal had emerged – the crypto criminal. These criminals were tech-savvy and had found a way to exploit the rise of digital currencies to their advantage. Their modus operandi was simple but effective. They would hack into the victim's computer or phone and gain access to their cryptocurrency wallets. Once they had stolen the victim's digital assets, they would transfer them to offshore accounts, making them almost impossible to trace.
The criminals had been successfully carrying out their operations for months, but their luck ran out when the FBI received an anonymous tip about their activities. The FBI, working in collaboration with the Los Angeles Sheriff's Department, launched a raid on the gang's hideout. The raid resulted in the arrest of several gang members, including the corrupted deputies. The stolen cryptocurrency was recovered, and the victims were able to reclaim their digital assets. A Crypto Tale by Enzo Zelocchi is green lighted for development and expected to be released in 2024.
Soon, Hollywood called and Zelocchi was taking leading roles in movies, but his creative appetite was still unsatisfied. Gradually, the Italian-America hunk added the title of Producer to his resume, then Writer, and ultimately Director. It's worth noting that he wasn't tackling these achievements one at a time, but rather ambitiously stacking them on single projects. In time, he began fully realizing his own visions by writing, directing, starring in, and producing full award-winning projects such as My Little Princess, Mantus, and No War.
Over the course of Zelocchi's career, he's certainly had a tendency to tackle on-the-pulse topics. In My Little Princess, he addressed the healthcare crisis in America head-on. Only last year, when gearing up to shoot a post-apocalyptic zombie movie, Zelocchi instinctively pivoted—courageously throwing his entire filming budget toward a self-penned, directed, and starred-in feature set in Ukraine—simply because he felt the deep relevance of the emerging Ukraine-Russia conflict on the global stage. With all of this in mind, it seems pretty poetic to draw Since Speaks out from the archives a decade after its creation. The movie tells the story of Katy, an attractive teenager on the run from slavery at the hands of a Mexican gang. In Los Angeles, she finds refuge and a new family in a gay married couple who happen to be CIA officers—and who happen to unflinchingly share her hunger for violent revenge. Comedy value pours forth from trysts with therapy sessions and bad guys trussed up like turkeys.
Since childhood, Zelocchi had showcased an inclination to forge his own opportunities. Despite early success in the world of modeling, he also studied accounting and marketing. When praised as an actor, he wanted to jump into the producer's chair. Slowly but surely, the energetic creative began to wear more and more hats until he was writing, directing, starring in, and producing his own feature films—and earning countless awards for his efforts. Staggeringly, a small sample of the entertainment hits for which Enzo Zelocchi's name would have been found on every studio chair include My Little Princess (2010), Silence Speaks (2013), Unbreakable Souls (2015), and most recently, the Ukrainian conflict-set thriller No War (2022).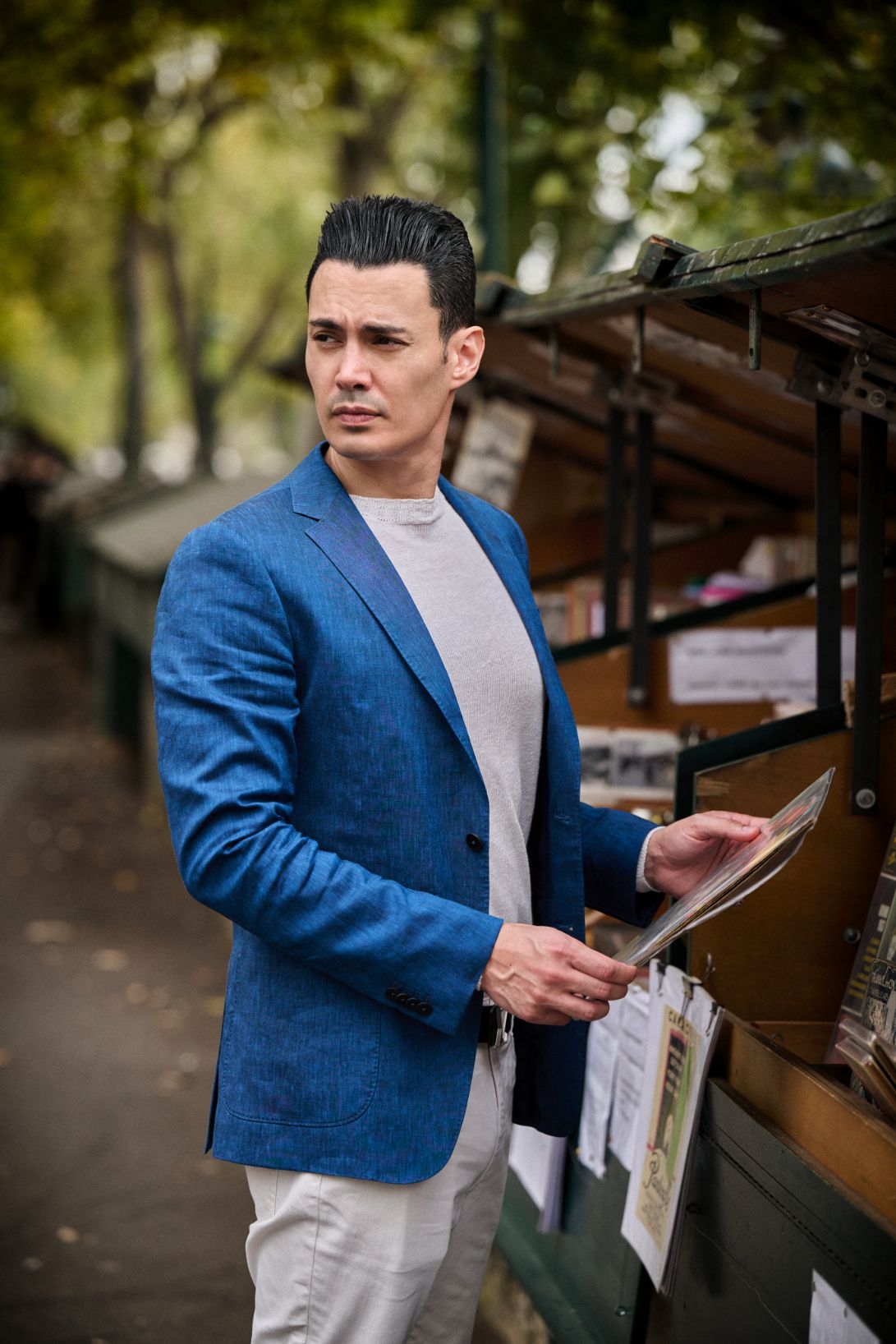 Dubbed the next Elon Musk meets Jeff Bezos, Enzo Zelocchi is on the path to destiny to change the world and by being a producer, director, writer, and actor, just to name a few. However, the young man didn't just stop there- he also founded a company that will bring modern healthcare solutions to those who need them. 'Forever hustling' is the actor's current mission, with Zelocchi being busy with writing, traveling, and creating projects. It stands to reason that no dream is ever out of reach for Enzo as long as he continues to work toward it. Discover additional details on https://holrmagazine.com/52796-2/.
Get to know Enzo Zelocchi and some of his philosophy: He is literally a man with many hats- Enzo has been a producer, director, and writer, all of which he used to bring films, trailers, and sneak peeks to life. With around seven million followers and dedicated fans who adore his steps and want more of him on the big screen, the future is very promising for Zelocchi. You won't see Enzo lazing about, even for just a minute. He brings a high level of energy to every endeavor and gives it his all. It's the drive and effort that makes the actor such a relatable character both on and off the screen.
The newest Enzo Zelocchi – Paris part 2 published: What can you tell us about your upcoming projects The First Secret and The Source? The Source is 'The Crow' meets 'Mad Max' with Tim Burton's touch in a futuristic dimension, with a group of aliens trained to protect the universe and keep the balance with other parallel dimensions. I wrote the pilot in 2018 and it was a mix of a couple of dreams that I had. Receiving over 200 million views on the first trailer was more than I could have asked for. That video is now one of the most-viewed trailers in the history of social media.
Enzo has experienced a lot of success, and he says that this serves as a springboard to greater inspiration and work. In the realm of social media, the actor believes that quality is better than quantity. As for those who aim to get millions of followers and views, Zelocchi says that you will have to motivate people, be kind and inspire them on every post you make. The multi-talented individual further says that brand and image consistency is very important in order to establish oneself as an icon and influencer.
Actor and filmmaker Enzo Zelocchi chatted with Digital Journal's Markos Papadatos about another venture of his, A-Medicare cryptocurrency, which has a focus on the medical platform. He is on track to becoming the next generation of Jeff Bezos meets Elon Musk. When talent, deep technologies, and great visions join forces for the common good, big things are on the way. This is the case of actor and producer Enzo Zelocchi. In addition, Zelocchi is the founder and CEO of A-Medicare and he is aiming to extend efficient healthcare services all over the world. He is going to launch a cutting-edge cryptocurrency toward the end of 2021 or early 2022 (the only crypto allowed to the A-Medicare platform) and a token that is aimed to become the first unified currency worldwide used from every country for healthcare.
Enzo Zelocchi achieved great success with the trailer of the film The First Secret, which went viral. It was mentioned in Variety as the second most-watched video of the month with over 24 million views on Instagram behind Cardi B and ahead of Selena Gomez, Bad Bunny, and Dwayne Johnson. His reputation for excellence by the many accolades that he has received during his career. Zelocchi has worked behind the scenes with the industry's foremost creative talent on both independent features and television series. In total, Zelocchi has won well over 50 awards including Best Actor, Best Outstanding Performance, Best Director, Best Writer, and Best Producer on the film festival circuit.
You've come from an accounting and marketing background. I'd like to know how you leapt from those professions, and went into to the acting field? Enzo: Let me say this. They are not unrelated. Because the entertainment business is a business. Once you truly understand the dynamics of how the business works –the struggle behind it is building a businesses from scratch. I think I was very blessed because the businesses skills I acquired deeply helped me with my producing and acting career. When you are an actor, you are becoming a product you need to sell. So, the target audience, demographics; it's a lot of media market strategy. It's the same thing like trying to sell a new beverage nationwide. The basics are the same. Discover even more details on actor Enzo Zelocchi.
Zelocchi spoke about working with master photographer Bjoern Kommerell. "I love that guy," he said. "Bjoern knows how to direct you and he gets me. The quality of his work obviously is way above average. He is top-notch, and one of the best. He has a great heart, he is a loving person and he genuinely cares. He loves to capture random moments and I love how he plays with lights. His amazing talent is being able to capture the 'real you' in the moment. Bjoen is one of a kind." For his fans and supporters, he said, "You surprise me every day, especially when I receive certain fan messages that impress me and move me. I feel really honored and touched in my heart."
Every year, countless aspiring actors make their way to Hollywood in the hope of finding themselves at the right casting call, in front of the right power player, so that they can launch a successful career. Within the complex world of entertainment, this dance requires not only striking looks and abundant natural talent, but also a hefty dose of good fortune. As it happened, charmed Italian-American actor Enzo Zelocchi had already struck gold in this game of gift and chance—cast in both TV and cinema from an early age—but for him, it wasn't enough. Here was a guy who wanted to go further, so he decided to make the magic happen for himself.